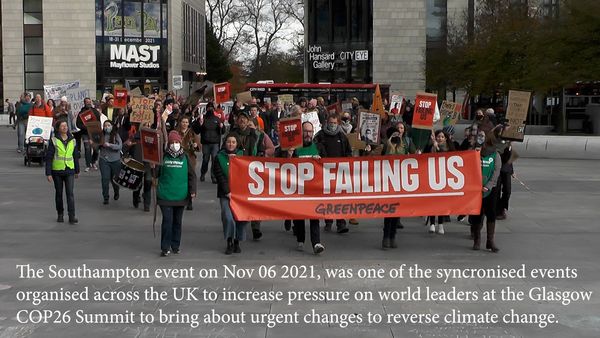 Wake me up when it's all over!
- 19 November 2021
As I finished reading the INews opinion piece on the outcome of the 26th UN Climate Change Conference of the Parties (COP26), the first thing that crossed my mind was to hide under the duvet in a dark room and sing to myself 'Wake me up when it's all over'.
The Inews article, written by someone I know, trust and respect, Dr James Dyke, articulated with depressing clarity the outcomes of the Glasgow conference, earlier this month. James is an Earth system scientist and Assistant Director of the Global Systems Institute at the University of Exeter. His recent book 'Fire, Storm and Flood' provides an 'unflinching photographic record of the epic effects of a violent climate, from the earliest extinction events to the present'.
In Southampton James is also known to many as our environmental expert who passionately organised so many events in collaboration with the team from the University of Southampton's Public Engagement with Research Unit. Some of you might have seen some of those events I filmed for our YouTube Channel.
Two Great Lies
James's view on the Glasgow Climate Pact is that there are two great lies that COP26 and the entire circus of climate negotiations promote.
'The first,' he says, 'is that we can avoid dangerous climate change by simply carrying on with business as usual. This is the net zero lie. We are told future technologies will remove the carbon that we are pumping into the atmosphere today, so there is no need to decarbonise rapidly now.
'But there are no credible plans for how we will safely remove and store billions of tons of captured carbon dioxide from the atmosphere. Carbon dioxide removal is a convenient fiction that allows politicians to claim they are taking action.'
The second great lie, he continues, 'is that rapid decarbonisation is simply impossible. But we have more than enough money, technology and scientific capability to replace fossil fuel infrastructure at the same time as ensuring all of humanity has a good standard of living. This would involve sharing some of the vast wealth and power that fossil fuels have generated.'
'Of course, the problem is that the wealthiest of humanity – a tiny fraction of the global population of 7.9 billion – do not want to share'.
Plans vs reality
Earlier in the month, speaking at the local Climate Change event in Southampton Guildhall Square on Saturday 6th November, Alan Whitehead MP pointed out the disparity between the government's promises to start reducing emissions and the actual infrastructure and plans that are missing.
He said: 'The government says that 'we are now going to start reducing emissions by 78% by 2035', but there is nothing in place that allows that target to be reached in terms of finance, plans, incentives for people, so it is just rhetoric, the reality has not changed. So our government is promising something that they know we can't deliver, as far as our UK contribution to that target is concerned.'
Climate injustice
Messages about the climate injustice caused by our capitalist attitudes and consumerism were echoed by some of the organisers of our local Southampton Event.
Izzy Sargent, part of the Airport Expansion Opposition Group, had been in Glasgow the previous days. She said that the speeches she heard reminded her 'of the nice lives we have here... worried about a bit of flooding, a few storms, but we are not losing our cultures, we are not losing our lands [...] because the climate is changing and the sea level is rising.
Speaker Jayanti Shah, the founder of Southampton Black History Month, pointed out that exploitation of resources in poorer countries has led to this climate injustice, while Manthan Pathak, one of the organisers, pointed out the plight of climate refugees and referred to the current climate crisis as 'an epic failure of human consciousness.'
Data released in April 2021, by the United Nations High Commissioner for Refugees (UNHCR) showed that 21.5 million people have been displaced by climate change-related disasters since 2010.
Local Power
But if the narratives about people you have never met are too removed from your daily reality to fully absorb and empathise with, the speakers at the Southampton Climate Change event reminded us of things that we can do and should do.
Mark Hancock came to Southampton to work as a development engineer on renewable energy 40 years ago. In his local message of hope, he said: 'I've lived through a transformation that has happened here in Southampton. For me it started 40 years ago in 1981 in a shed in Netley, developing cutting edge wind technology.'
Mark's mention of wind farms businesses in the area prompted me to look up opportunities for green jobs closest to Southampton. For example, the factory on the Isle of Wight, owned by Danish energy giant MHI Vestas, employs almost 700 people on the island and usually produces seven 80-metres long wind turbine blades a week.
Mark pointed out that human ingenuity is responsible for lightbulbs that use 90% less energy than the ones we had 40 years ago. Solar power has come down, costing a fraction of the initial price and making it affordable for homeowners. These are 'tools that we can all use to do our bit.'
Izzy Sargent, from the Southampton Airport Expansion Opposition Group, reminded us of the power of scrutiny we have in this country, where decisions like Eastleigh Council's permission for the local airport runway to be expanded, can be judicially reviewed if enough people join forces and resources to make it happen. The group is currently raising money for a fresh judicial review of how Eastleigh Council reached that decision.
Sustainable Choices
Using words that echoed the famous film tagline 'Choose Your Future. Choose Life', Lyn Brayshaw's message was to put your money where your mouth is.
'Choose local, choose organic, choose less. Choose an energy provider that is genuinely green, you can choose to travel on foot, by bike, by bus, by train. You can choose to be a role model. Make your choices sustainable: reduce, re-use, repair, rethink, and recycle. Choose Repair Cafes run by Transition Southampton.'
'Get your buzz by joining a local group instead of the buzz from shopping. You have spending power! You have spending power and everything you buy (or don't buy!) makes a little difference.'
On a daily basis, you and I are the sum-up of our behaviours! And that's where a lot of the power is!
Links
https://transitionsouthampton.org/
https://transitionsouthampton.org/projects-repair-cafe/
https://friendsoftheearth.uk/groups/southamptonfriendsoftheearth
https://axosouthampton.wordpress.com/